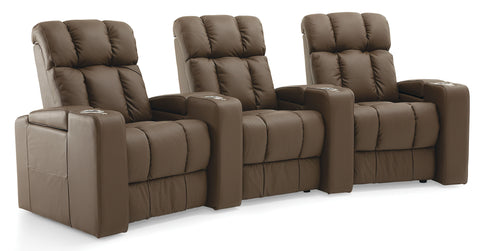 Genoa 3 PC Home Theater Seating
Vendor
Clover Premier
SKU
Home Theater Seating
Genoa Home Theater Seating
Recline and relax at the touch of a button. This 3-person home theater seating set enables you and your guests to enjoy the show with large cup holders for your favorite beverage, arched padded armrests, convenient storage consoles, and plush, two-section back support. With a chaise-style, padded footrest and ample space to comfortably host family and friends, this leather three-seater set requires minimal clearance to fit virtually any home theater.
Features: 
Power recline
Built-in cupholders
Umber High Performance Fabric
Remote storage
Padded footrests
ABOUT CLOVER PREMIER:
Enjoy the style and comfort of your favorite brands— at a fraction of the cost. Shop these Clover exclusives while supplies last.