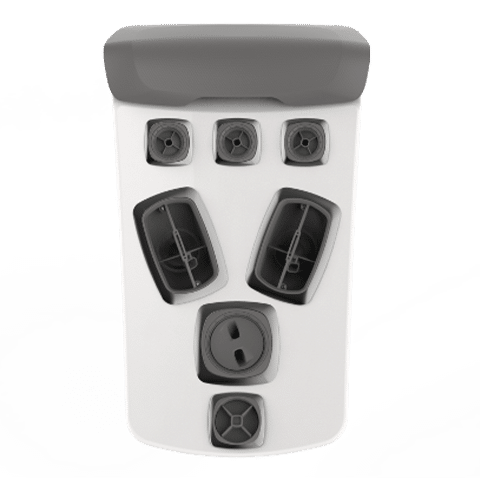 Bullfrog Spa Versa CT JetPak
Vendor
Bullfrog Spas
SKU
Versa CT
Bullfrog Spa Versa CT JetPak
JetPak Target Areas:
Deep Tissue: Spinal Muscles, Lower Back
Firm Relief: Lat & Oblique Muscles
A Versatile Spa Massage

The Versa JetPak combines a deep penetrating direct massage for the upper-back and shoulders with a therapeutic kneading mid-back massage and pulsating low-back relief.


HOW TO CHANGE YOUR JETPAKS
WHY BULLFROG SPAS?
A LUXURY HOT TUB, DESIGNED FOR YOU
Bullfrog Spas are the world's only luxury hot tubs equipped with the patented JetPak Therapy System. JetPaks are modular hot tub jets that can be interchanged at any time now or in the future. JetPaks® delivers incredible power, maximum massage versatility, and they allow you to upgrade your spa's jetting with new JetPaks anytime.
THE DIFFERENCE IS THE PATENTED JETPAK THERAPY SYSTEM
Because of the patented JetPak Therapy System, your Bullfrog Spa is completely customizable and upgradeable. You will be in charge of your own hydro massage preferences. In addition, superior technology makes your Bullfrog Spa extremely energy efficient. Bullfrog Spas use 90% less plumbing for a more efficient and powerful water therapy. You will enjoy a completely personalized therapy experience with the ability to interchange your favorite massages quickly and easil