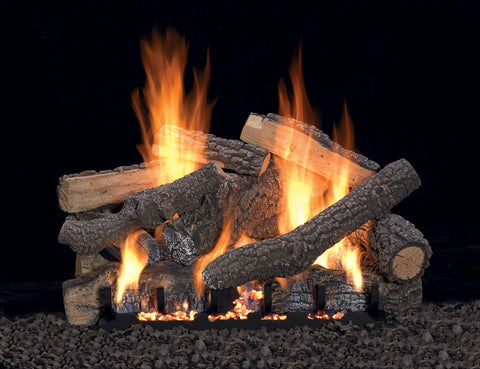 Ponderosa VENT FREE 24" GAS LOG SET
Vendor
white mountain
SKU
13125
Ponderosa VENT FREE 24" GAS LOG SET
A vented gas log set makes a great alternative to the hassle of building a log fire in your wood-burning fireplace. Just like a wood fire, a vented gas log set provides plenty of mesmerizing flames and flickering light. Vented log sets are considered decorative systems and must be installed in a vented fireplace with the damper open and may not operate by thermostat.  Millivolt Vented Burners may be operated with an on/off remote control or wall switch.
The top of the Slope Glaze burner features precision ports that position the flames to complement the log set.  Inside the burner, the gas flows through a bed of precisely sized ceramic pellets that tumble and swirl the gas as it mixes with the air. 
Features:
36,000 BTU's

13 piece log set

Millivolt system

Refractory Cement logs
why white mountain
Made in USA – Providing Opportunities for Employees and Suppliers

Empire manufactures White Mountain Hearth indoor and outdoor fireplaces, inserts, logs & burners, cast iron stoves, and mantels at the company's two manufacturing facilities in Belleville, Illinois, just outside of St. Louis.  The company has provided jobs to southern Illinois residents for more than 100 years – both in the original sheet metal shop dating back to 1911 and in the manufacturing facility that opened in 1932.  The children, grandchildren, and great grandchildren of some of the original employees still proudly work to produce our products, truly making this a family business.
Today, Empire employs hundreds of people in manufacturing, office staff, sales, marketing, engineering, accounting, administration, and management.