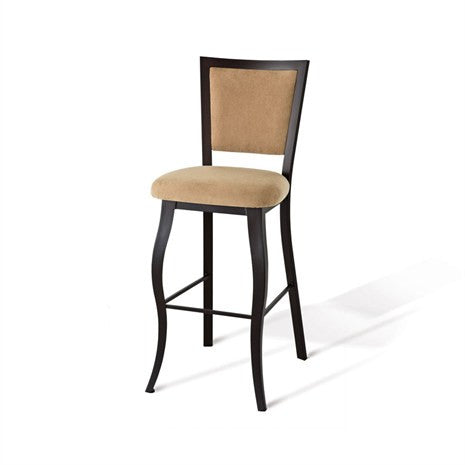 Juliet Counter Height Stool
The boudoir mood. Ah, that special haven where everything is soft, elegant, romantic—and glamorous. Where charm is pervasive and you feel at home. You love its bold violets and blues and soft pastels. The feminine lines of the furniture and the stylish sophistication of the ornamentation. This is where refinement meets cozy comfort—and you will be thrilled! Your personality will shine through too, in playful details that hint at extravagance. You are who you are, it's that simple—no need to make excuses!
•Ultra-sturdy steel frame
•Well-cushioned seat and backrest
Dimensions:
26" H x 18-1/2""W x 21-3/4"D
Why Amisco?
Amisco, a Quebec-based Canadian company, takes great pride in designing and producing residential furniture that satisfies the tastes and needs of all ages. Our top-quality steel furniture reflects the latest North American design trends, and we are committed to producing pieces our customers will enjoy using day after day. Every item we make is exceptionally comfortable, superbly finished, durable—and backed by worry-free after-sale support. Amisco—head and shoulders above the rest of our industry!