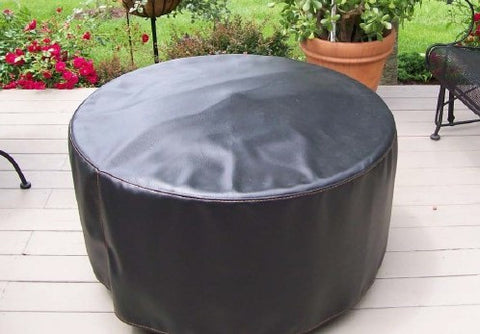 Oriflamme fire pit Storage Cover
Oriflamme fire pit Storage Cover
With a weight of 30oz. (per lineal yard), the vinyl of these covers is the heaviest available. It also exceeds the specifications of "Marine Grade Vinyl", and "Premium Grade Vinyl".
"Marine Grade Vinyl" was developed for the harsh climates of boating and the awning industry. To be classified as a marine grade, the vinyl has to meet certain requirements (whether these requirements are exceeded or not is another story). The vinyl used in our covers exceed all specified requirements of both "Marine Grade Vinyl", and "Premium Grade Vinyl"!
The following are the specifications of the vinyl used in our covers (helpful for making any comparisons);
* UV Rating & Weather Resistance : 1500+ hours
* Stabilized Pigment Rating : 500 hours
* Weight : 30oz per linear yard
* Thickness : .040
* Cold Crack Rating : -20°
* Abrasion Resistance : 200 Cycles
Unlike some covers where the vinyl cover is heat sealed together, another important feature of these covers is that they are completely double sewn together with the highest quality thread. Heat sealed seams become very brittle in the hot sun and freezing cold.
*THIS ITEM OR GROUP MAY BE AVAILABLE IN MULTIPLE COMBINATIONS, COLORS, FABRICS OR SIZES, SOME PICTURED ITEMS MAY BE ADDITIONAL OR NOT INCLUDED, SEE STORE FOR DETAILS. STORE DISPLAY MAY BE DIFFERENT FROM IMAGES SHOWN.