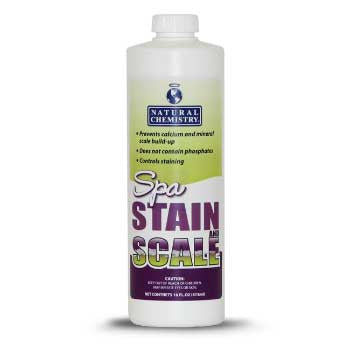 Stain & Scale mineral remover
Vendor
Natural Chemistry
SKU
208
Stain & Scale mineral remover
 Spa Stain & Scale protects your spa from the damaging effects of scale build-up and staining due to excessive calcium, iron, copper and other minerals. It works without the use of phosphates or harsh acids. Spa Stain & Scale assists in preventing scale from forming on salt generator cells, to help maintain optimum performance.
Prevents calcium and mineral deposits
Controls staining due to metal content
Does not add additional phosphates to the spa
Can be used with any sanitizer or sanitizing system
Compatible with all surfaces
Note: This product can be used with any sanitizing system and is compatible with all spa surfaces.
Why Natural Chemistry?
Natural Chemistry has developed a regular maintenance program to continually remove phosphates as they enter the water.  The program works in conjunction with the enzyme-based Pool Perfect; combining the benefits of both products into an easy maintenance program for swimming pool owners.  While the  PHOSfree removes the phosphates, the natural enzymes gently biodegrade organic material in the pool water.

 

Our purpose is to enhance the lives of everyone we touch. We are constantly developing thoughtful, sensible solutions that focus both on the environment and the best interests of commerce and the consumer.

Through creative innovation and an energetic response to any challenge, we will continue to forge new pathways to provide only the best in product choices for the marketplace. We will always maintain our culture of family based values as the dominant guiding force in the relationships we develop on our journey. Through this approach we strive to enrich the moments in life that mean the most to all and create a meaningful legacy.

 

Natural Chemistry strives to:

    Provide chemical-free, natural solutions to common problems
    Make our products quick and easy to implement
    Provide treatment programs for specific problems
    Provide a wide variety of products to cater to many different needs
    And overall, improve the lives of your pets, pool and spa!

 

Clear, Perfect Water...Unconditionally Guaranteed!