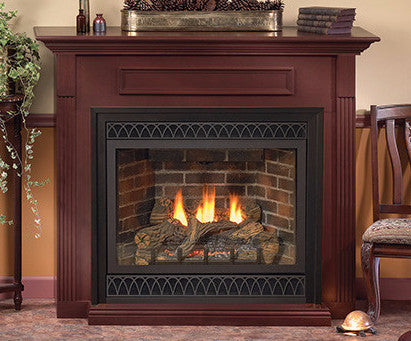 Tahoe Deluxe Direct-Vent 42" gas Fireplace
Vendor
white mountain
SKU
2740
Tahoe Deluxe Direct-Vent 42" Fireplace
Tahoe Deluxe models feature our Contour tube-style burner, designed to complement the hand-painted ceramic fiber log set, and produce a natural dancing flame.
Deluxe Tahoe model have louvers and available trim kits.  The large heat-resistant, tempered glass window provides an unobstructed view to the log set. Tahoe Deluxe offer several styles of liners – Aged Brick, Herringbone, Stacked Limestone, and Black Reflective.
Tahoe Deluxe models require just 16 inches of depth making them ideal for applications where wall-cavity space is tight.
WHY WHITE MOUNTAIN
Made in USA – Providing Opportunities for Employees and Suppliers

Empire manufactures White Mountain Hearth indoor and outdoor fireplaces, inserts, logs & burners, cast iron stoves, and mantels at the company's two manufacturing facilities in Belleville, Illinois, just outside of St. Louis.  The company has provided jobs to southern Illinois residents for more than 100 years – both in the original sheet metal shop dating back to 1911 and in the manufacturing facility that opened in 1932.  The children, grandchildren, and great grandchildren of some of the original employees still proudly work to produce our products, truly making this a family business.
Today, Empire employs hundreds of people in manufacturing, office staff, sales, marketing, engineering, accounting, administration, and management.