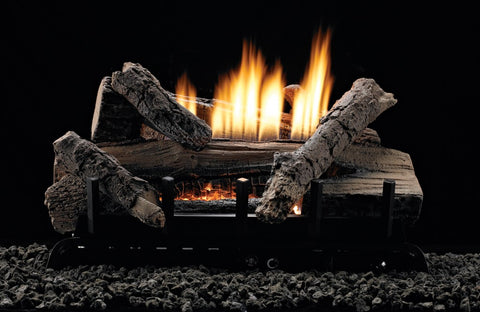 Whiskey River VENT FREE 24" GAS LOG SET
Vendor
white mountain
SKU
13146
Whiskey River VENT FREE 24" GAS LOG SET
The Whiskey River Log set features chunky, hand-painted Refractory logs. The Whiskey River set delivers rich warmth and bold looks to complement any style. 
24' Gas Log set Features:
34,000BTU's
Contour burner
Remote option
The log set combines the burner and log set into one package.  Because they require a minimum of just 12 inches firebox depth, these compact systems fit easily into most fireplaces.
18, 24 and 30-inch Vent-Free Burners – up to 40,000 Btu
Millivolt (VFDR), Manual (VFDM), and Thermostat (VFDT) models
Special 10,000 Btu Millivolt model for bedroom applications (where allowed by code)
Why White Mountain
Made in USA – Providing Opportunities for Employees and Suppliers

Empire manufactures White Mountain Hearth indoor and outdoor fireplaces, inserts, logs & burners, cast iron stoves, and mantels at the company's two manufacturing facilities in Belleville, Illinois, just outside of St. Louis.  The company has provided jobs to southern Illinois residents for more than 100 years – both in the original sheet metal shop dating back to 1911 and in the manufacturing facility that opened in 1932.  The children, grandchildren, and great grandchildren of some of the original employees still proudly work to produce our products, truly making this a family business.
Today, Empire employs hundreds of people in manufacturing, office staff, sales, marketing, engineering, accounting, administration, and management.